When we talk about diversity, what exactly do we mean? Diversity based on religion? On race? On gender? On national background? On culture? On socio-economic class? On age? Other attributes? How do we think and talk about diversity and what it means in our lives and in the lives of other Americans in our increasingly diverse nation? These are questions people across our country are asking, including those of us at Lincoln's First Parish.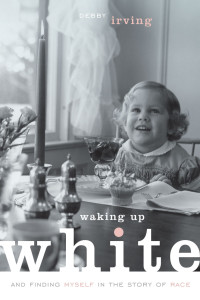 The Adult Learning Committee is recommending a church community summer read on the topic of racism and white privilege. The book we recommend is Waking Up White and Finding Myself in the Story of Race by Debbie Irving. On Sunday September 22 at 4 pm, we will hold a discussion about the racism and white privilege issues raised by the book.
Waking Up White and Finding Myself in the Story of Race by Debby Irving. (2014). Growing up in Winchester, a community much like Lincoln, the author starts with her experience as a white woman, and then moves on to grapple with the complexity of racism in the United States at both an individual and an institutional level. Her story is not only personal and readable, but it is also timely for our church, for Lincoln and for our country.
Copies are available at Lincoln Library and 3 copies are available in the FPL Library.
If you have already read Waking Up White and want another perspective or angle on the topic of race and white privilege, consider reading one of the following:
White Fragility, Why it is so hard for White People to talk about Race by Robin Diangelo (2018). A New York Times best seller, this book offers a sociological and psychological study of white privilege in the United States, exploring the dynamics of white fragility and how we might overcome it.
White Like Me: Reflections on Race from a Privileged Son by Tim Wise (2004). Growing up in Nashville and educated at Tulane University, Wise's experiences present a male perspective, a counterpoint to Irving's Growing Up White,, as well as a regional difference, the South, as opposed to New England. The book is part memoir and part essay, lively and compelling
Uncensored: My life and Uncomfortable Conversations at the Intersection of Black and White America by Zachary Wood ( 2019). Wood offers a personal account of overcoming a difficult upbringing , as well as complexities of systemic discrimination experienced as a high school scholarship student from a poor black neighborhood in Washington, DC and as a leader of the free speech movement at Williams College.
From the Summer Reading Team: Janet Boynton, Ken Hurd, Mary Helen Lorenz, Jessica Packineau, Barbara Slayter, Mary Jo Veling