Jenny Rankin, Interim Minister
On August 15, 2018. we welcomed the Rev. Jenny M. Rankin as our Interim Senior Minister. Jenny will work with the Board and the Transition Team to help the congregation accomplish the 5 interim ministry goals recommended for a congregation in transition between settled ministers.
Jenny was born in Boston and raised as a Unitarian Universalist at King's Chapel. She graduated from Princeton University with a B.A. in European Cultural Studies and earned her MDiv at Harvard Divinity School. Ordained in 1988, she was Acting University Chaplain at Tufts University before serving congregations in Hopedale, Hingham and Cohasset as an interim minister. Called to First Parish in Concord in 1997, Jenny served as Minister for 15 years. Since then, she has returned to interim ministry, serving communities in Gloucester, Lexington and Franklin.
Jenny loves to learn, especially in community with others. She has taught and lectured on Transcendentalism, Emerson and Margaret Fuller and has led walking tours in Boston and Concord as well as overseas in Europe. She has also taught classes on spiritual autobiography, the contemplative tradition, and creativity as a spiritual practice. Jenny has a deep interest in Celtic spirituality and has travelled to Scotland and Ireland in search of sacred sites. She is currently enrolled in a Certificate program in Spiritual Formation at the Boston College School of Theology and Ministry, a three- year summer program.
She is married to writer and photographer Rich Higgins and they make their home in Concord, Massachusetts. Jenny and Rich have three children, two daughters and a son. And a beautiful golden retriever named Finn!
Rev. Jenny can be contacted directly at jenny@fplincoln.org.
Office Hours (subject to change, appointments recommended): Tue 10-5; Wed 12:30-8:30; Thu 10-5; Fri-Sermon writing at Library
---
Margit Griffith, Director of Religious Education
Margit moved to Lincoln in June 2008, "tried out" First Parish that September… and never left. After a few years of "church shopping" while living in another town, she was delighted to have found her "just right fit" within walking distance of her home in Lincoln. Having raised two children through First Parish's Religious Education program – and volunteered in FPL's religious education classroom some of those years – Margit is honored to bring her experience and education as a counselor, corporate customer service professional and teacher to her role as Director of Religious Education. She feels it is truly a blessing to serve the spiritual community she loves.
Margit can be contacted directly at margit@fplincoln.org.
Office Hours (subject to change, appointments recommended): Sun 8-1; Tue 9-4; Wed 9-4; Thu 9-4; Fri 11-4
---
Gert McDermott, Administrator
Gert McDermott grew up in Newtonville, the eldest child of Italian immigrants. After high school she settled down with her husband to raise a son, and took a job with Seaside Associates, a non-profit organization in Weston. She remained there for 11 years, assuming the role of Office Manager as the organization grew. During that time she earned an Office Management Certificate from Mt. Ida College.
After leaving Seaside, Gert spent three years with a business in Concord before returning to the non-profit world by joining the staff of The First Parish in October 1997. She enjoys serving the church community, and when she's in the office, her door is always open to visitors.
As a member of the local chapter of the Association of UU Administrators, Gert has served as a co-chair and is currently the treasurer.
Gert and her husband live in the Nashoba Valley, and their son lives nearby. She spends part of each summer touring the nation on her motorcycle, and enjoys reading, baking bread, and doing home repairs and renovations.
Gert can be contacted directly at gert@fplincoln.org.
Office Hours (subject to change, appointments recommended): M-F, 11am-5pm
---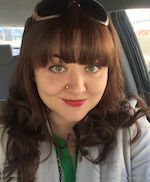 Sarah Klockowski, Community Engagement/Adult Programming Coordinator

Sarah joined our staff in 2019, bringing enormous talent and presence to a new position at First Parish. Along with significant religious training in an interfaith, justice-oriented context she is experienced in organization and program development within a church setting.
Born and raised in New England, Sarah has also lived in Texas, on the island of Saipan, where she served as a Youth Pastor and High School Educator for five years, and most recently New York City. She holds an MA in Biblical Languages from Gordon-Conwell Theological Seminary, and an MDiv with a concentration in Social Ethics from Union Theological Seminary. Sarah's academic interests are in theologies of embodiment and liberation, and her ongoing writing projects work to integrate the two — particularly as it pertains to fat embodiment.
Sarah has undergone significant spiritual deconstruction and reconstruction, having been raised and educated in the Assemblies of God. She says, "Through it all I'm still a Pentecostal at heart, with a deep love for embodied worship and attending to divine presence."
Sarah can be contacted at sarah@fplincoln.org.
Office Hours (subject to change, appointments recommended): T-Th, 10am-6pm
---
Meredith Jeremiah, Student Minister
Raised Unitarian Universalist and the child of a Unitarian Universalist minister, Meredith Jeremiah was born in Arkansas and since then has called many places home. After graduating from the University of Massachusetts with a B.A. in History in 2014, Meredith worked as a teaching assistant at a public school and then returned to Arkansas to work and live on a ranch while leading educational programming surrounding hunger and sustainability. After a few years on the ranch and a year at the Clinton Presidential Library, Meredith left Arkansas for Harvard Divinity School to pursue the call that had been there all along, to ministry. Meredith will earn her Masters of Divinity in May 2020.
She was married in May of 2019 to Kyle Barber. They are living apart due to Kyle's work in the Air Force but are excited to make their home together in Shreveport in June along with their sweet cat, Elena.
Meredith can be contacted at meredith@fplincoln.org.
Office Hours (subject to change, appointments recommended): T, W 12pm-6pm
---
Ian Watson, Music Director & Organist
Ian Watson came to First Parish in September 2012. Trained at the Royal Academy of Music in London, he is a top church musician and educator, with wide-ranging experience embracing novice, advanced and professional levels. His most recent church post was the Music Director at Cathedral of St. Paul in Worcester, MA. He is also an internationally-known, dynamic, multi-faceted music professional who maintains an active performing and recording career in collaboration with major artists and ensembles as an organist, pianist, harpsichordist and conductor in both standard and historically-informed practices.
Ian is currently Associate Conductor of the Handel and Haydn Society Orchestra, Artistic Director of Arcadia Players Baroque Orchestra, and Music Director for the Connecticut Early Music Festival.
Ian can be contacted directly at ian@fplincoln.org.