Welcome to First Parish
The First Parish in Lincoln (FPL) is an open and welcoming church. We meet for worship every Sunday from September to June at 10:00AM in our Sanctuary located at 4 Bedford Road, across the street from Lincoln Library.
We are somewhat unique in that although we have roots in both the Congregational and Unitarian traditions dating back to the 1940's, over the years we have developed our own unique form of worship that makes room for people of many religious backgrounds, or none at all! Wherever you are in your spiritual journey, you are welcome here.
What to Expect
When you come to our worship service on Sunday, we hope you will feel comfortable and welcome. Our ushers greet all attendees and visitors, provide them with an Order of Service, and guide them to any seat they prefer. Visitors may choose to make themselves a name tag so others can greet them by name.
Services typically last about an hour. Casual dress is the norm for most Sunday services — whatever you are comfortable in is just fine.
FPL welcomes young families — children may participate in Religious Exploration classes (grades K-12), enjoy the professionally staffed nursery (infants to preschoolers – drop off anytime from 9:45 on), or are free to stay with their parents for the duration of the service. There are "activity bags" available to engage toddlers. You are welcome to keep your child/children with you in the Sanctuary during worship, or you may retire to the Stearns Room behind the sanctuary and view the service on a video feed.
A typical service includes organ prelude and postludes, choral selections by the church choir, church related announcements, a time for silent and spoken prayer, an offering, a sermon and three hymns sung by the congregation at different times during the service. Three times a year a simple "communion" service is offered on the first Sunday of the month.
Following the conclusion of each service, we offer a popular coffee hour at which all may meet to socialize. This is a great opportunity to mingle, ask questions, and get to know our congregation.
Accessibility
The entry at the rear of our Sanctuary can be reached via a level, wheelchair-friendly path, and there is ample space for wheelchairs within the Sanctuary itself, along with accessible restrooms. The Parish House is similarly equipped, with an entryway ramp on the north side of the building.
Assisted listening devices are available at our worship services upon request – ask an usher, or look for the basket at the front lobby (or "narthex") of the Sanctuary to be provided a wireless headset.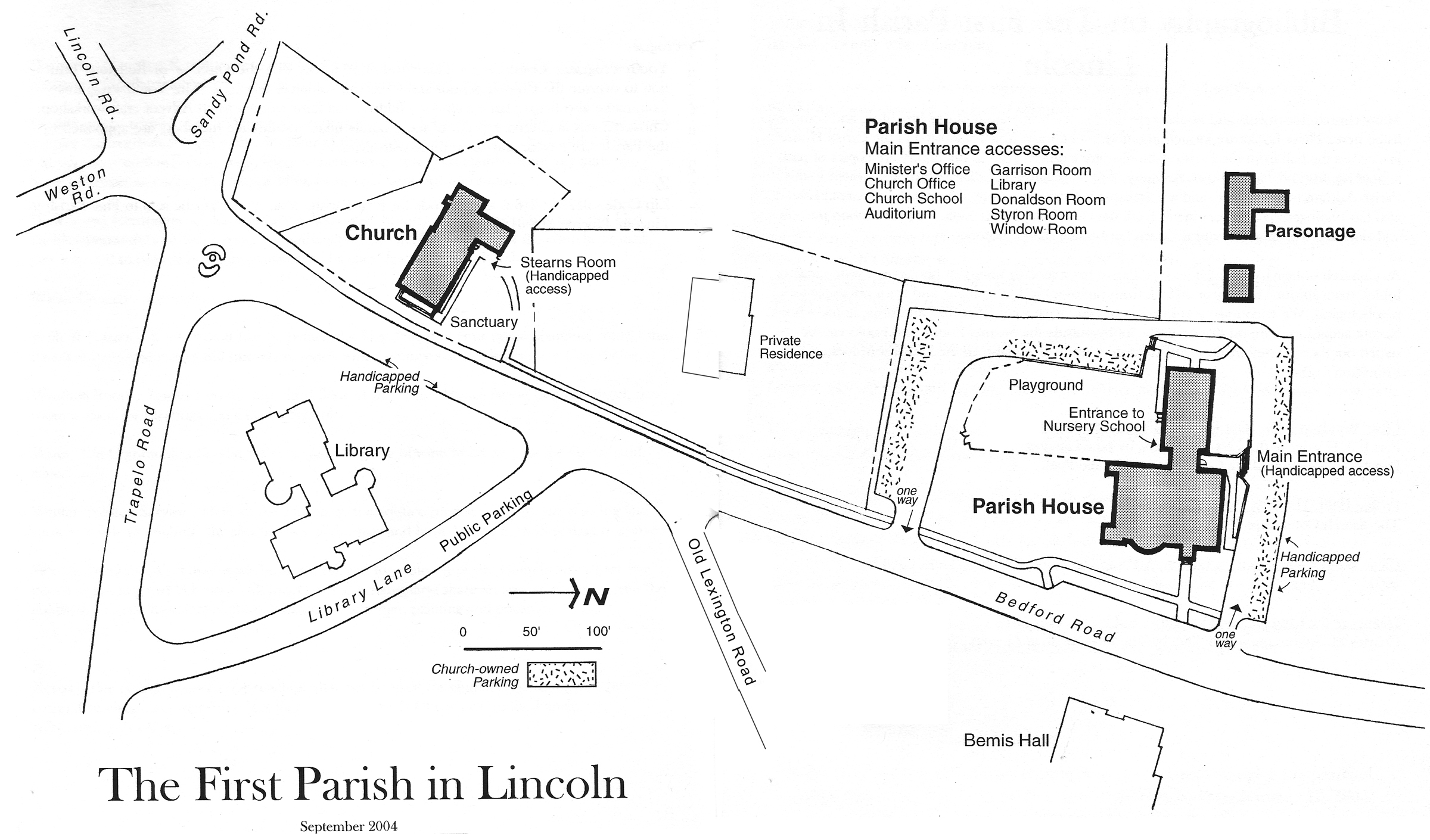 Parking
Off-street parking is limited to the Parish House parking lot at 14 Bedford Road; a short walk downhill on a paved path will take you to the Sanctuary. On-street parking for handicapped and seniors is available in defined areas along Bedford Road across from the Sanctuary. Space is also available on neighboring roads.